TOPLINE SPACE AND EQUIPMENT WITHOUT BOTTOMLINE WORRIES
DentalPort and its strategic partners provide innovative, integrated dental products and services. Office-based practitioners can count on reliable, state-of-the art facilities without worrying about space maintenance, repairs, or upkeep. DentalPort will handle that for you.
Included in Every DentalPort Facility
9 fully-equipped Pelton & Crane operatories with rear delivery, 1 reserved for emergency use complete with gas hook-ups
4 operatories each doctor
Anesthesia/sedation suite op #9
Custom sterilization center
Custom cabinetry
2 Midmark M11 sterilizers
2 ultrasonic units
N2O flowmeters and manifold
Medical gases
9 intraoral x-ray units
3D cone beam radiography
4 intraoral cameras
Dexis digital sensor
17 Dell PC workstations
Dell servers for each doctor
HP printers
2 lab benches with handpieces
Lathe
Model trimmer and plaster bin
Vac former
Phone system
Alarm system
Water distiller
AED
Portable oxygen
Dual air compressors
Dual vacuum units
Featuring the Cubex supply management system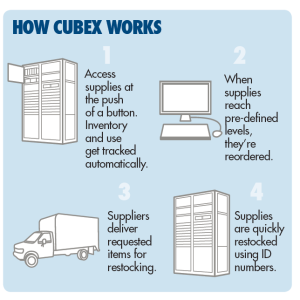 The Cubex System makes materials management nearly as simple as buying snacks from a vending machine.
The Cubex System lets you stock, inventory, order and bill materials more accurately and more cost-effectively. Ideal for multi-practice facilities, Cubex ensures that doctors and patients have the right supplies, at the right cost, at the right time.
Reduce costs by limiting providers and excess supplies
Automate re-ordering process
Organize supplies in a single, central location
Decrease emergency orders with virtually NO out-of-stocks
Track costs more effectively and efficiently